Letters/Emails from Happy Clients
The following are additional testimonials written by just some of my happy sellers and buyers. They have all been kind enough to give me permission to share their letters and emails. Their letters and words are very gratifying. It seems that my down-to-earth and honest approach has earned me many friends!
"
Yuriy's responsiveness and attention to detail are second to none. In a busy field of real estate agents, Yuriy stands head and shoulders above the crowd. When it comes to commercial real estate you want to make sure you engage a professional. For my money that Realtor is Yuriy Kayda!
Adam S.
"
"
Hi Yuriy,
Just a simple Thank You for amazing service you provided for us.
I am grateful to have you as realtor.
Dejan M.
Dear Yuriy,
Thank you very much for all your help in finding our new place!
With great appreciation, Oxana + kids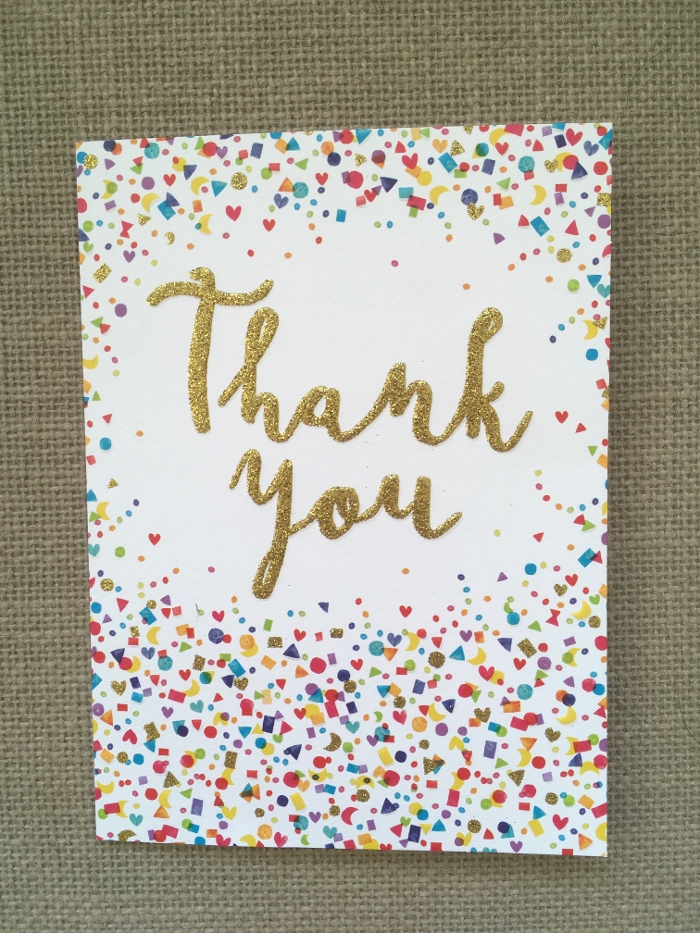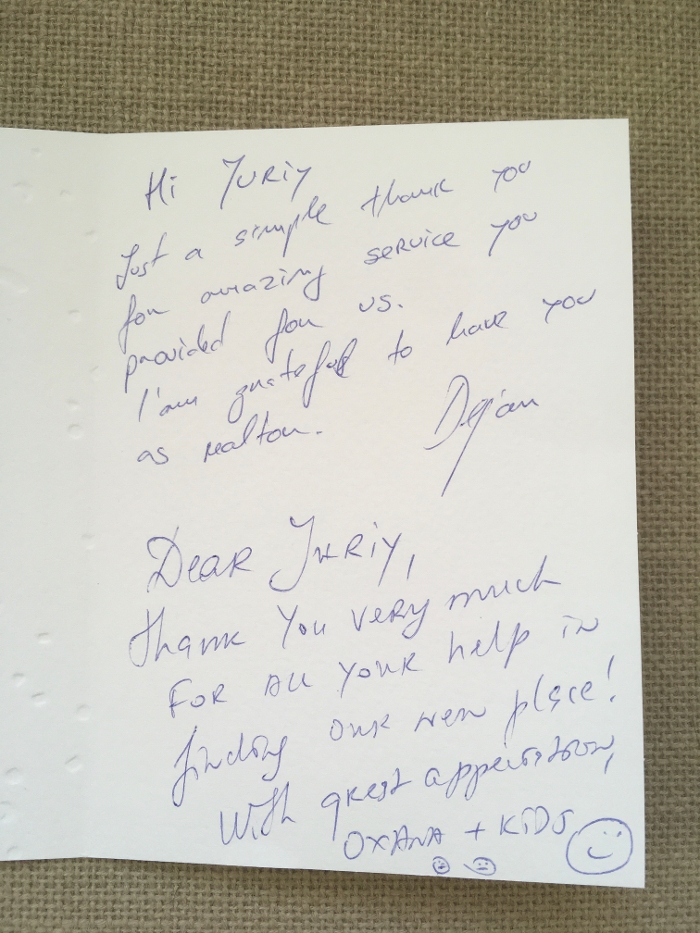 "
"
My wife and I were getting ready to move out of Canada. And we had to sell our home before we could leave the country. But we had no idea how exactly to do it.
Looking at whatever resources we could, the task seemed surprisingly complex and daunting. That is, if we did it ourselves.
We could always hire a realtor, or so we thought...
But then that raised another difficulty:
How do you find a good realtor?
In the end, we contemplated just throwing the home out there on the market for cheap and getting rid of the burden once and for all.
I guess that's how seemingly difficult and complex selling a home is for first timers like ourselves.
You'd rather just be done with it.
Regardless the cost.
But before we did that, I decided to ask for opinions from as many different acquaintances as possible, as is my habit. And weigh the options.
Among those acquaintances was my auntie, who so far had never given me a bad recommendation. And she told me about the amazing work Yuriy did with selling her own home. Not only did he manage to sell it within a day, but she was relaxing on a cruise ship when it happened and she didn't need to worry about a thing.
And at first, we were not sure what to expect...
... but Yuriy took the time to explain everything to us in great detail, from analyzing housing prices and recent sales in the vicinity to discussing pricing strategies for our home, and more.
We found Yuriy to be very professional, enthusiastic and passionate about his work.
I was impressed to see that Yuriy had a very diverse background, ranging from engineering to programming to accounting. And I always enjoy working with people who have a deep-rooted love for learning, and who don't merely work for the sake of working.
So we were confident that we were in good hands.
But it was not until we began the process of selling our home that we would encounter something that gave an even clearer picture of what it means to have a good realtor working for you.
While negotiating with our potential buyer at the time, we discovered that their realtor wasn't exactly the most skillful.
We were surprised at the way their realtor handled things, with multiple difficulties cropping up, a lot of mistakes being made, and we could see clearly how they were being put at a disadvantage because of various questionable decisions.
Long story short, the difference between having a good and not-so-good realtor work for you is like the difference between night and day.
In the end, in spite of various difficulties, and Yuriy having to work together with our lawyer to navigate those circustances, we managed to sell our home for an amazing price given the market conditions.
We were really relieved that we didn't have to handle all that by ourselves. And that we had Yuriy representing us.
But it was not without a little hardship. As I know that Yuriy had more than a few sleepless nights and a lot of anxiety helping us get the house sold due to all the difficulties and also the unpredictability of current market conditions.
He went above and beyond his job. So that we could have a smoother sale.
If you're looking for a good realtor to help you sell your home, so that you can move to greener pastures, without all the headaches and hardships normally associated with the sale, I'd highly recommend that you give Yuriy's services a try.
Edward Y. and Laura X.
"
"
THANK YOU YURIY KAYDA ! ! !

Choosing a Real Estate Professional to represent us in the purhase of our home was a major decision.
We were looking for a professional who could help us realize the best possible value on our investment.
YURIY KAYDA was the right choice.
From his timely response to every question or concern we had, to his always positive attitude during this tought time in our country right now.
He is a wonderful person to work with and awesome throughout the whole process of buying our home.
My wife and I were looking to downsize to a smaller home in a very limited geographical area.
Yuriy worked with us on a personal basis and helped us decide what we really wanted.He would always show up on short notices and take us to see potential homes.
It was his knowledge of local areas and networking that enabled us to purchase our new home. We simply could not have done this without him. The home he helped us pick out, my wife and I could not be happier with!!!
We would definitely recommend Yuriy due to his vast experience and knowledge in real estate field.
Umer S. and Saba U.
"
"
A big Thank You for selling our property!
We appreciate your effort, energy and enthusiasm to get it done, find us the right buyers, and guide us to the end of an interesting and challenging journey.
Our family is so blessed by all your skills, talent and integrity.
Thank you for being so wonderful!
Barb and Martin A.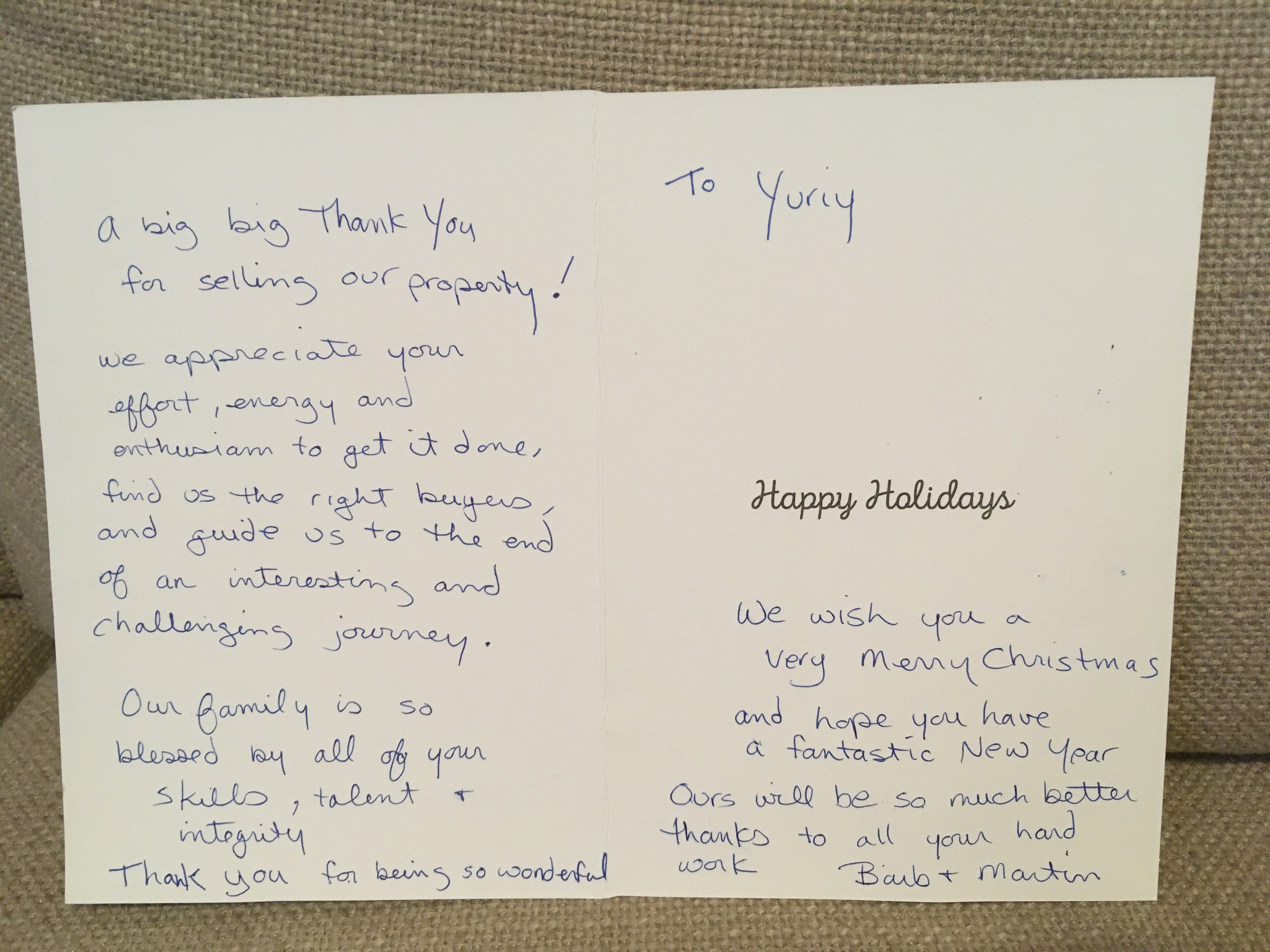 "
"
Alex and I cannot say enough positive things about our experiences with Yuriy. From purchasing our first home (a condo in New Westminster) in 2016, to selling that same condo and buying a house (in Ladner) in 2018, Yuriy got us through it all. Yuriy's work ethic, drive, positive attitude, background in Accounting, and attention to detail, makes him the dream realtor. In a time when buying a home in the Lower Mainland is very difficult and stressful, Yuriy is such a supportive figure and takes care of you from start to finish.

We were truly very lucky and incredibly grateful to have had Yuriy as our realtor, and as our friend.
Amanda A. and Alex S.
"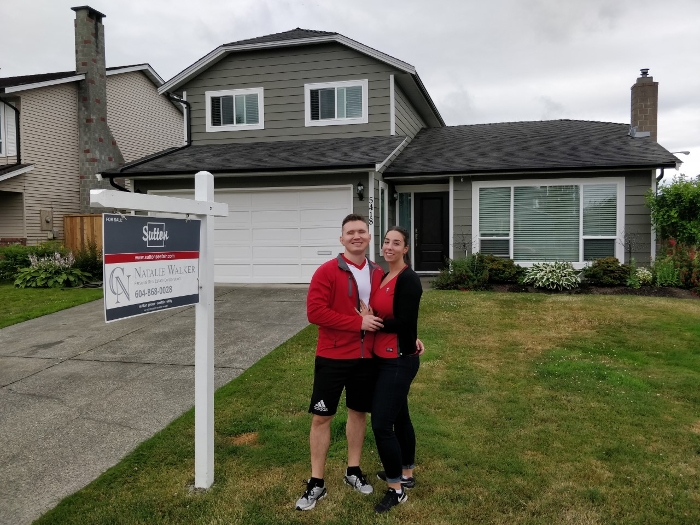 "
Yuriy guided us down the right path to home ownership with respectful direction catering to our wants and needs with his valued insights. We would not hesitate to recommend Yuriy to family and friends.

Claire and Devon A.
"
"Trust - It's very hard to trust a stranger, especially with something as important purchasing our family home.
Over the course of our house hunt, Yuriy not only earned our respect as our trusted advisor by putting our best interests first but has become our go-to resource in real estate matters. Yuriy and his team have continually exceeded expectations.
Arthur L. and Sherry H.
"
"

Yuriy is professional, smart and experienced agent.
His knowledge, skills combined with charming attitude helped us to buy our first home. If you are looking for actual results, he is the right guy! He knows what he is doing. Cheers!
Reza A. & Leili G.
"
"
Thank you very much Yuriy, for finding us the perfect place for our first home.
You made us feel like number 1 priority while searching for our home! You were patient with our numerous questions and made the process as easy as it could be in this crazy market.
Me and my parents are very happy and we look forward to working with you again in the future. We will be referring you to all of our friends and family because of your excellent service.
Thank you again Yuriy, we are so grateful!
Simran S.
"
"
My husband and I worked with Yuriy Kayda to sell our house, and we have to say it was a wonderful experience.

He is very professional, knowledgeable and very patient.

We had very little knowledge about the whole process of selling a house.
Yuriy took his time to explain every step of the process.
He answered every question we had in our mind. He is very thorough and efficient
He is very honest and gave us honest opinion about everything. He is very flexible with timings.

We were very comfortable with Yuriy throughout this process.

Our house got sold just in one week and we got more than we expected.

We highly recommend Yuriy Kayda.

Naheeda B. and Rehan Z.
"
"
Dear Yuriy,
Thank you so much for the work you have done to make my apartment available for sale. I am sure it has made a difference.
Even Peter downstairs [YK: President of the Strata Council] without me saying a word remarked how professional you are. Now that takes some doing. He even mentioned the attention you had made to your appearance. Just thought you would like to know.
Let's hope your efforts will be rewarded.
Yours truly
Belle C. as seen of Google courtesy of Knowledge Network.
"
"

Our first home purchase couldn't have happened without the help of Yuriy, our realtor.
Yuriy was great in so many aspects, but what we appreciated the most about his service was his professionalism along with efficiency , flexibility and patience.
He was the first realtor we met who was willing to go over the contract word by word.
He was so quick to get all the answers to all of our inquiries. He was willing to meet with us any time and any day when necessary.
We would recommend Yuriy to any of our friends and family.
Thank you again Yuriy for all you did to make our first home purchase!
Lee and Sam
"
"
I highly recommend Yuriy as your realtor.
My first impression of him was that he was very friendly and still completely professional.
He communicated in a simple easy manner and best of he listened!
He has the energy you need in a realtor and is highly ethical in his practices.
Get him, and you really can't go wrong.
Carol D.
"
"
Thank you for helping me purchase my dream property!
Dear Yuriy:
I want to extend a formal acknowledgement and appreciation for the excellent support and service that you provided throughout the process of buying my first condo in Burnaby, BC. Your expertise, professionalism, and consistent positive outlook certainly helped me navigate this complicated purchasing process.
As I am new to the city from Alberta, I strongly relied on your skills to map out the best location, suitable property for my needs, and the best strategy for negotiation. You steered a masterful course as evidenced by that you helped me purchase my dream property below the average price in this competitive market!
I wholeheartedly recommend Mr. Yuriy Kayda to all my friends and colleagues who plan to buy and/or sell their properties. I look forward to working with him again in future!
Thank you for your dedicated help and for your friendship!
Best regards,
Jeff H.
"
"
Yuriy was absolutely everything we were looking for in a realtor and more! We only just sold a couple weeks ago and have already recommended him to numerous people. He's super knowledgeable and professional while being personable at the same time.
When we were ready to sell our home Yuriy came to our first meeting with a whole plan and strategy ready! He took a tour of our apartment and told us exactly when would be the right time to list, what renos/decluttering was needed and the right price to get the most buyers!
He really cared about how all the work would effect our budget and our newborn baby. That's why he used his own time to get the best quotes for our renos, came by to make sure everything was completed on schedule and then even spent a day picking out staging accessories with us.
In the end everything went even better than any of us had ever dreamed! My husband and I never thought we would profit from our apartment sale let alone have a bidding war and getting almost 15% above asking price!!!
We had endless praise from all our neighbours about how unbelievable our home looked and how amazing our realtor was. He really was like a friend who cared about our family's interests. Yuriy helped us achieve our dream. With the success of our sale we were able to become debt free and save up for an investment property in the coming years!
We're looking forward to working with Yuriy again!!!
Regards,
Lucy Z.
"
"
Hi Yuriy,
We are still excited when we think of the whole process for our house purchasing in Surrey, BC (Greater Vancouver, BC) about one month ago. Finally, it comes true after we work together to conquer many difficulties! It's an amazing experience whenever we think of this!
My husband and I appreciate you very much for not only your contribution to your customer (my husband and me) but also the consideration is on behalf of purchaser's profits and thoughts. We feel very comfortable with your work and dealing between the seller and us! I should say we can't make the deal without your positive work!
Your devoted working spirit and hard work to make the deal closed impressed us very much! You work very late almost every day during the critical week, you have to drive long way so that you meet with us and communicate face-to-face. We like all the communications with you because you don't push us but you help analyze the price and situation, which bring us more confidence to make decision purchasing this propety in such short time.
You helped in all kinds of sides when we need like the lawyer, insurance etc.. So, finally, the deal comes true.
We thank you so much for your great effort, time and contribution you did for us in the purchasing process!!! I would like to introduce you to my Chinese friends when someome would like to buy house in Vancouver!!! We believe in your character and I am sure our Chinese people like to work with you who is of this kind of wonderful character!
All the best,
Dan and Lily
Nov 2, 2016 in Beijing, China
"
"
I would like to thank Yuriy for the effort and all his hard work finding the perfect condo for me and my husband.
Yuriy was very helpful in assisting us in our condo search. He provided attentive services in a highly professional and organized manner.
We would highly recommend his services to anyone.
Thanks for everything, Yuriy.
Tanya and Alex S.
"
"
We would like to thank Yuriy Kayda for being our property agent. He always answers our questions day and night, he is like our family friend. We would definitely recommend him to all our friends and family.
Cara M. and Khai H.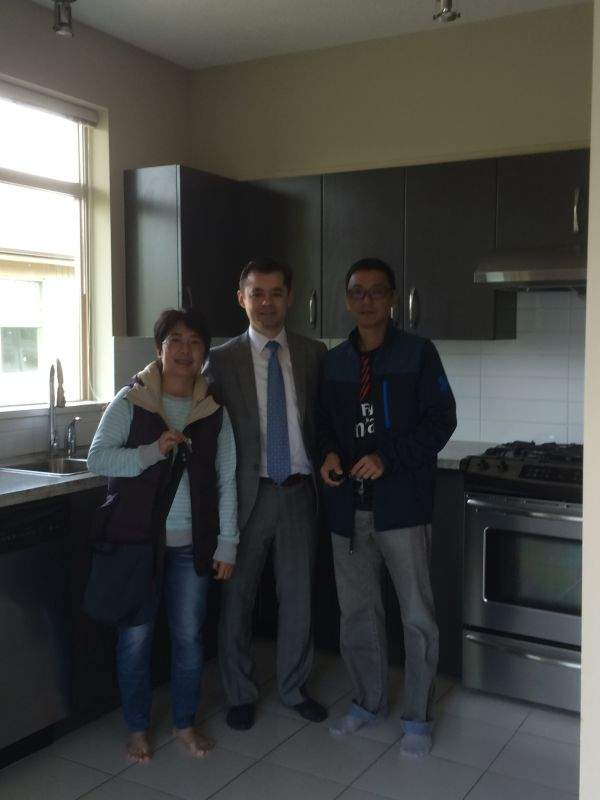 "
"
Before we got our dream home in June 2016, my husband and I were just starting our career out of university and looking for a place to live after a year of renting. We started looking at apartments for fun in February without the intention to buy, Yuriy helped us identify good characteristic of houses and apartments for educational purpose. It was such a good experience that my husband and I started seriously thinking about buying a place in the coming June, 2016. We were very impressed by Yuriy's broad knowledge about the housing market and characteristics. We did some house shopping in February but my husband and I were not financially ready for the purchase yet. Yuriy was incredibly patient with us and kept helping us figure out what housing features we like and what kind of pricing was best for us. In June 2016, we had a little crisis when we had to move out by July 1st because our landlord was moving back in. My husband and I were desperately in need of a place to live in. Yuriy found this beautiful condo with a cute patio and efficient spacing for us. Thanks to Yuriy's housing education for months, my husband and I were able to decide quickly on purchasing that beautiful condo and moved in successfully by June 23rd. The process of title transfer was very smooth because Yuriy is a very organized man. Having lived in my new home for a few months, my husband and I are in love with the place more and more.
Yuriy is a realtor with integrity. He is reliable and helpful in many ways. Our experience of home buying with Yuriy have never been stressful, in fact, it has always been a lot of fun. As a young couple, even though our purchasing ability is limited, we could always feel the support Yuriy gave us and we never felt pressured into buying anything. He is very good at helping customers choose the right place, right price and right features.
All in all, Yuriy is very good at making his customers feel comfortable and confident in housing purchase. Thanks to Yuriy, our experience in home buying could not be better!
Marianne X. & Alexander B.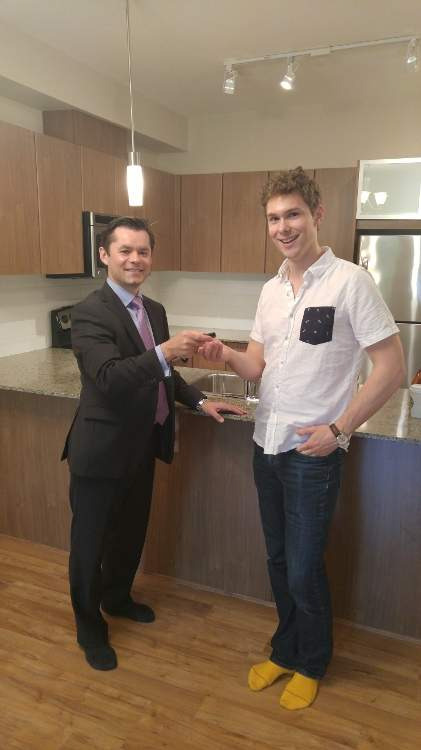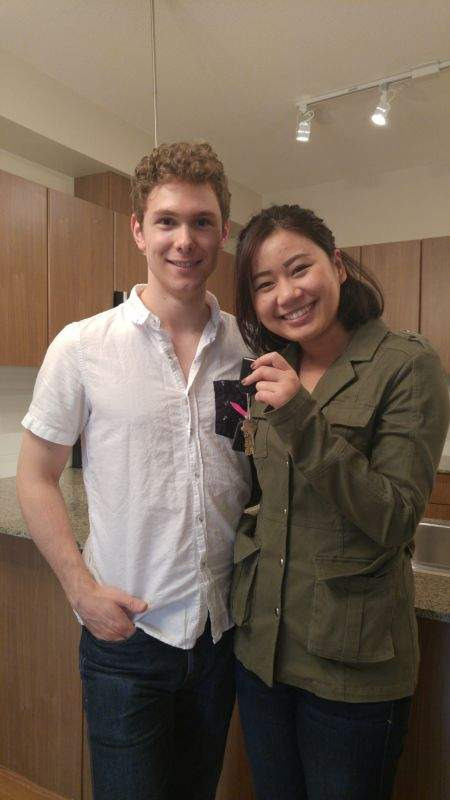 "
"
Yuriy enjoys what he does; he is patient, accommodating, and follows up on your behalf. I knew my needs, and he did his job very well. For a first time home buyer like me, Yuriy made the steps clear, and flow seamlessly: from negotiation, to purchase paperwork. In the end I am in my dream home. His is a great business card to have, and it is no surprise that he is excelling in his career."
Feel free to use any of these details below - as long as it would be possible to remove upon request, in case too many calls etc. Thanks again Yuriy! Very happy to hear about your advancement. Congrats.
Y.I., B. Comm, CHRP
Human Resources and Communication Management
"
"
Dear Yuriy,

It's an honor to write this to thank you for all your amazing work in purchasing our Saanich property. I hope this letter explains why I believe you are an exemplary Realtor.

In Spring 2016 my husband and I were looking for a home in or near Victoria and we had no success. We finally found a home that we liked but the selling realtor (and the owner) were very aggressive in their tactics and you were there to protect us Yuriy with special clauses in our offer that protected us.

Then you helped us purchase the house of our Dreams. You were able to negotiate VERY favorable terms and conditions and I don't think this would have been possible without you.

From the time of our first meeting, you were professional, friendly and helpful. You explained to us exactly how the processes would work and you recommended certain things that we could do to help with the purchase. Along the way, you always listened to our needs and during our discussions it quickly became obvious that you knew your market and the local real estate players. You communicated with us frequently and effectively and provided guidance and advice along the way. To your credit we were never surprised or in the dark at any time.

Yuriy, you have a great energy level, and a wonderful work ethic, and you amazed us with your creativity, and perseverance in closing the sale.

It is no exaggeration that purchasing a home is stressful both emotionally and financially. You provided the support and confidence we needed to purchase our home. Through it all you were a professional who was clearly a partner and had our best interest in mind.

For all of these reasons I would like to recommend you to our friends and acquaintances. We will certainly seek you out with for any future real estate requirements.

Thank you very much Yuriy,

Adrienne I.
"
"
My husband and I were first time home buyers when we met Yuriy at an open house.
We agreed to work together in finding our dream townhouse and gave Yuriy a large list of wants in this crazy economy. We thought the large list of wants and the specific complex was an impossible request for our price range.
In less than two months and a few showings, Yuriy contacted us in only a few minutes from when our home went on the market.
Yuriy was successful in finding our town house in the complex we wanted, three bedrooms and baths, double garage, exact square footage and under our price range.
Yuriy was patient, supportive and informative during the whole process.
We thank you, Yuriy, for your help in finding our dream home.
Serafina and Luca
"
"
I would like to recommend Yuriy Kayda as your Realtor.
Yuriy is an excellent Realtor, as he has the skills, attributes and is an incredible trusted advisor. My Wife and I just purchased a new home with Yuriy's help and support. We were not disappointed at all as Yuriy is incredibly patient, professional and helpful. He was able to help us make our very important life decision providing support guidance and absolutely NO PRESSURE at all.
We are extremely pleased and we do not believe we would have been able to purchase this home for an excellent price without Yuriy's guidance.
David Turgeon
"